NEWS
The main products are glass fiber reinforced bars, glass fiber reinforced plastic anchors and various fiber reinforced composite profiles
NEXCEL Announced 2023 Funded Projects and Convened Kick-off Meeting this year in Beijng
---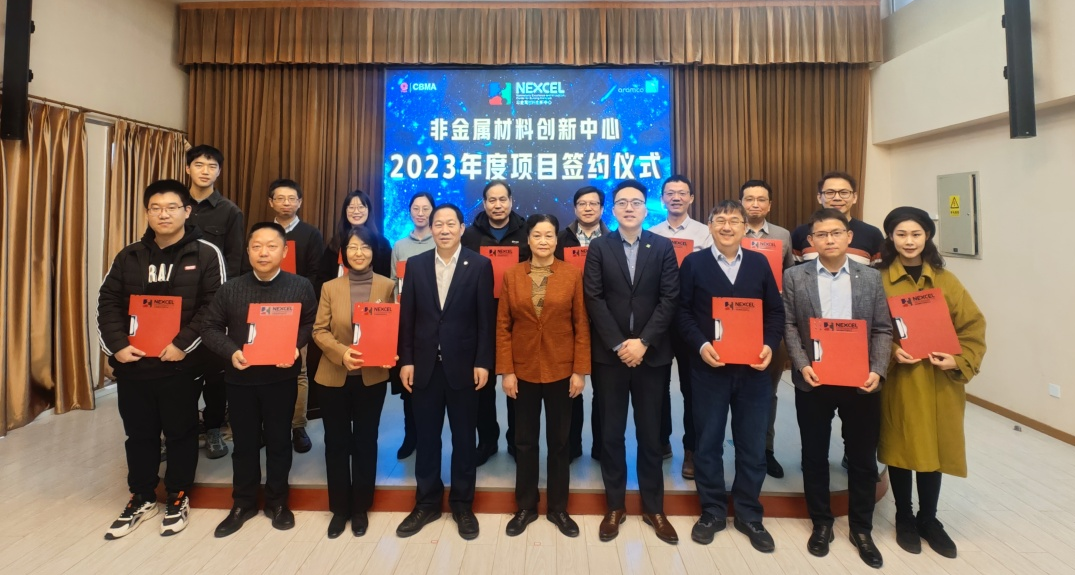 NEXCEL announced 2023 funded projects and convened Project Kick-off Meeting in Beijing. More than 50 participants, including Mr. Ma Zhenzhu, member of NEXCEL Steering Committee and President of China Building Materials Academy (CBMA), members of NEXCEL Technical Advisory Committee (TAC), project Principle Investigators(PI) and key team members, representatives from Aramco Asia and CBMA, attended the meeting. The Meeting was chaired by Dr. Li Juan, Program Director of NEXCEL.
On behalf of NEXCEL Steering Committee, President Ma Zhenzhu announced the list of 2023 NEXCEL funded projects and congratulated all teams who won to implement the projects in the competition. He addressed that Saudi Aramco, a leading Fortune 500 company, is a responsible and highly respectable enterprise. Considering the energy transition and materials upgrade, NEXCEL is jointly established by Saudi Aramco and CBMA. He expected that all project teams will be innovative and produce a number of forward-looking and leading outcomes to promote the low-carbon and high-quality development of nonmetallic materials.
NEXCEL Program Fund is aiming to gather excellent scientists and excellent teams to provide more sustainable solutions through technology development and standard leadership. NEXCEL released the 2023 Program Guideline, which consisted of 11 projects and focused on fiber reinforced composites, polymer concrete, waterproof materials, ultra-low energy consumption buildings, and polymer recycling. The projects received active participation from the leading universities and research institutes, with 63 proposals from 103 applicants. NEXCEL organized three rounds of technical reviews by the Review Panel composed of Chinese and Aramco experts, and finally selected 13 outstanding teams to undertake the funded projects.
At the Meeting, Dr. Li Juan, Program Director of NEXCEL, signed the project contracts with the PIs. Dr. Gao Ruijun, Technical Manager of NEXCEL, introduced the rules for project execution. The PIs made a presentation respectively on the detailed technical approach and research plan. At the same time, Prof. Wang Zhendi, an outstanding PI representative in 2022, shared his experience and exchanged ideas on undertaking NEXCEL projects.
NEXCEL Technical Advisory Committee (TAC), composed of Prof. Yao Yan and Prof. Wang Ling from CBMA, Prof. Huang Songchang from Research Institute of Highway Ministry of Transport, Prof. Li Xiaoyu from Beijing University of Chemical Technology, Prof. Xian Guijun from Harbin Institute of Technology, Prof. Sun Shibing of Beijing University of Technology and Zhang Yong, Chief Engineer of China National Building Waterproof Association fully affirmed the innovation and feasibility of projects, and put forward specific suggestions on the project implementation.
Finally, Prof. Yao Yan, Chairman of the TAC of NEXCEL, emphasized that the projects focused on the application research of nonmetallic materials with tight schedule and heavy tasks, and she encouraged the project teams to achieve more outstanding research results that will play a leading role in driving NM innovation and demonstration.
The convening of Project Kick-off Meeting is an important milestone and laid a good foundation for the follow-up work. The project teams will summarize the valuable suggestions from TAC, and make all efforts to deliver a series of first-class technologies and products through NEXCEL projects.